ARTHUR'S LIFE IN PHOTOS 1
Please be patient, photos take a while to load.
ARTHUR JAMES WILSON
Arthur was born in Kuala Lumpur on 23rd May, 1926.
His father was Arthur Atterbun Wilson, an English Accountant.
His mother was Wong Choo Sem, otherwise known as Angela Wong, a Chinese teacher.
His early schooling was in Kuala Lumpur.
His mother then took him to Singapore where he attended St. Andrews Anglican School for the rest of his schooling.
When he was 15 his schooling was interrupted by the fall of Singapore to the Japanese.
As he had been a Boy Scout and was proficient in Morse Code he was employed by the Japanese as a morse code operator, he was fed by the Japanese and given a protective arm band which saved him from some of the dreadful things which happened to his school masters and school friends.
After the surrender of Singapore to the allies he went back to school and completed his Cambridge School Certificate.
He was an excellent cricketer and athlete and in the last year of school, a prefect.
When the results were published he was offered a place as a cadet officer with the Singapore Police Force.
He remained with the police Force for 17 years rising to the rank of Senior Inspector, the later part of his time being spent as a Police Prosecutor.
This gave him the idea to study to become a lawyer, so in the early sixties he travelled to London to study in Middle Temple in the Inns of Court.
He returned to Singapore for a short time before deciding to migrate to Australia.
He travelled by a ship called the Australasia which called at several ports including Port Moresby, Papua New Guinea. He decided to look at the Courts in Moresby to see how things were done, here he met the registrar who happened to be someone he knew. This man arranged an interview with the Secretary of the Law Department who offered him the job of Prosecutor. He disembarked from the ship on 17 July 1967.
I met Arthur in 1969 as I was a teacher in Port Moresby.
We travelled to Hong Kong in 1971 where he had the job of Crown Counsel. We decided we did not like the crowded nature of Hong Kong so we returned to Port Moresby.
Our daughter was born there in 1972.
In 1973 we left PNG and went to Darwin where Arthur was again a Prosecutor.
We were blown out of there on Christmas Day in 1974 by Cyclone Tracy.
We relocated to Canberra where Arthur for a short time was again a Prosecutor.
In 1976 Arthur was made the Deputy Master of the Supreme Court Darwin.
However, after a short time we decided to return to Canberra where Arthur was in the legislative drafting section of the Attorney Generals Department.
He remained there until he retired in 1991.
During the January fires in January 2003, Arthur single handedly saved our house and the house next door.
He died in Canberra, Australia on 5th May, 2004.
I took some pictures of the flowers at Arthur's funeral.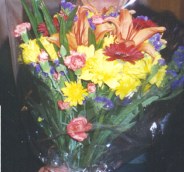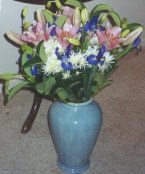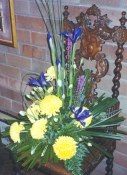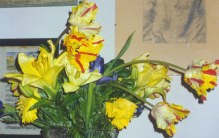 About 1937, Singapore, second on the left
St. Andrew's School Scout Group, about 1939, second row far right.
Camping at Siglap, Singapore, about 1940, on the right.
As above, on left.
1943 at Kuala Kangsar, Sultan's Palace, back row fourth from right.
As above, second row on right
| | | | | |
| --- | --- | --- | --- | --- |
| MY LIFE IN PHOTOS | ARTHUR'S LIFE IN PHOTOS | KATY'S LIFE IN PHOTOS | HERITAGE PHOTOS MY MOTHER'S FAMILY | HERITAGE PHOTOS MY FATHER'S FAMILY |
| FAMILY TREE | CANBERRA FLORIADE FESTIVAL | BUSH SCENES | SALVATION JANE | SUNRISES AND SUNSETS |
| AROUND CANBERRA | FROM BLACK MOUNTAIN TOWER | RIVER SCENES | TREES | MISCELLANEOUS |
| ROSES | FLOWERS | FAVOURITE LINKS | THE WEATHER | VISITORS COMMENTS |
| AUSTRALIA | SPIDERS | CHATTERS HELP | CALENDAR | ACT |
| PAPUA NEW GUINEA | AUSTRALIAN WILD FLOWERS | | | |
I made the border and the buttons on this page using
Adobe PhotoDeluxe 2.0 and Paint Shop Pro 5.03