To find the time in any country use this system,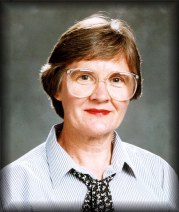 This site has been visited
times since 20/2/2000
plus the 300 odd other times before
the counter reset itself
This site was last updated on 28-Mar-07
This page looks best in Internet Explorer, it does not format properly in Netscape, nor in Firefox.
This web site is continually being changed. If you have been here before you will probably find that new things have been added since you were here last.
Some years ago visitors were subjected to a viewing of the host's slides. I guess this page is a little like that. But the beauty of it for you is that any part you don't want to look at you don't have to, and I will never know!
To go directly to one of my pages just click on the links below.
I have won two photographic awards in USA. They are pictured below.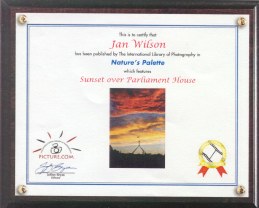 This picture can be seen in a larger version by clicking sunrises and sunsets below.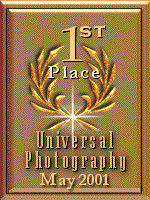 Click on my Floriade Festival page to see which of my photos won this award.
Click on family tree to find the real Harry Potter.
MY LIFE IN PHOTOS

ARTHUR'S LIFE IN PHOTOS

KATY'S LIFE IN PHOTOS

HERITAGE PHOTOS

MY MOTHER's FAMILY

HERITAGE PHOTOS

MY FATHER'S FAMILY

FAMILY TREE

FLORIADE FESTIVAL

BUSH SCENES

SALVATION JANE

SUNRISES AND SUNSETS

AROUND CANBERRA

BLACK MOUNTAIN TOWER

RIVERS

TREES

MISCELLANEOUS

ROSES

FLOWERS

FAVOURITE LINKS

MT. HAGEN SHOW

VISITORS COMMENTS

AUSTRALIA

A.C.T.

PAPUA NEW GUINEA

AUSTRALIAN WILD FLOWERS

MY CHAT

(THIS LINKS TO ANOTHER WEB PAGE)

MY GRAPHICS SITE

(THIS LINKS TO ANOTHER WEB PAGE)

A CLASS PHOTOS

(MY PART TIME BUSINESS)

(THIS LINKS TO ANOTHER WEB PAGE)

PIXIE

CANBERRA FIRESTORM

ANIMAL PHOTOS
The following pages which used to be on this site have now been moved to another site. This page became too big too publish.
Businesses I recommend.
Calender.
Chatters help.
The weather.
Web page goodies
Spiders
I made the border and the buttons on this page using
Adobe PhotoDeluxe 2.0 and Paint Shop Pro 5.03