HERITAGE PHOTOS 2
Please be patient, photos take a while to load.
THE CLARK FAMILY (MY MOTHER'S FAMILY)
OLD PHOTOS- PAGE 2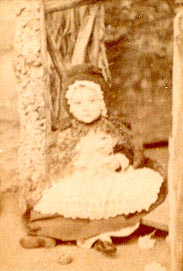 Edith Mary Marsh
10-3-1884 - 1938
(My grand mother)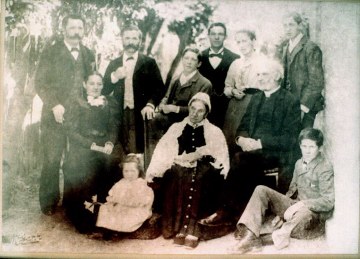 The Clark Family - taken about 1890
Seated right Godfrey John 1823-1899, seated centre his wife
Standing left Edmund, Godfrey's 3rd son, 2nd left, Stanley Godfrey's 2nd son
Seated left Holly, Edmunds wife. standind 2nd right Agnes, Stanley's wife.
Stanley's children, Frank standing right, Lewis standing 3rd from left, 2nd son
Percy sitting right front, 3rd son and Minnie siting front left 4th child Edmunds
only child Ted, standing 3rd from right, missing Godfeys 1st son Lewis and his
4th son Alfred.
The Marsh Family
Edith Mary Marsh
b.10-3-1884 South Melbourne
d. 1938 Adelaide
Taken shortly before she went to India to marry.
(My grandmother)
| | | | | |
| --- | --- | --- | --- | --- |
| MY LIFE IN PHOTOS | ARTHUR'S LIFE IN PHOTOS | KATY'S LIFE IN PHOTOS | HERITAGE PHOTOS MY MOTHER'S FAMILY | HERITAGE PHOTOS MY FATHER'S FAMILY |
| FAMILY TREE | CANBERRA FLORIADE FESTIVAL | BUSH SCENES | SALVATION JANE | SUNRISES AND SUNSETS |
| AROUND CANBERRA | FROM BLACK MOUNTAIN TOWER | RIVER SCENES | TREES | MISCELLANEOUS |
| ROSES | FLOWERS | FAVOURITE LINKS | THE WEATHER | VISITORS COMMENTS |
| AUSTRALIA | SPIDERS | CHATTERS HELP | CALENDAR | ACT |
| PAPUA NEW GUINEA | AUSTRALIAN WILD FLOWERS | | | |